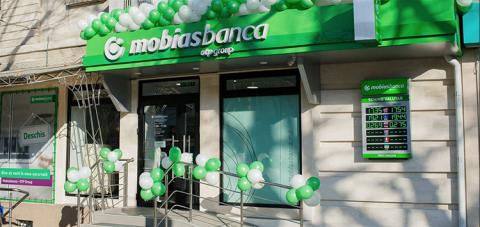 Small and medium-sized enterprises (SMEs) in Moldova are to benefit from greater access to finance as the EBRD and the European Union unlock fresh funding.

The EBRD is providing an additional €5 million loan to Mobiasbanca-OTP Group for on-lending supported by EU grants under the EU4Business-EBRD credit line. The new loan to Mobiasbanca complements two previous ones of €10 million and €20 million since the launch of the programme back in 2016.

The joint financing programme supports Moldovan companies to boost production locally and trade more successfully on the European market. By investing in better equipment and meeting EU standards, the companies are able to improve the working conditions of their employees, environmental sustainability and offer goods and services of better quality at home and abroad.

To date, the EU4Business-EBRD credit line has provided more than €65 million to five local partner banks for on-lending with over 230 businesses already benefiting from the programme.

Angela Sax, EBRD Head of Moldova, said: "We are delighted to be joining forces with the EU and Mobiasbanca once again and meeting growing demand from local companies. Access to finance is critical for business growth, and it becomes even more important today as we stand ready to help companies weather the economic impact of the global coronavirus pandemic."

Peter Michalko, Ambassador of the European Union to Moldova said: "I would like to highlight the EU's commitment to support the SMEs, as a key element for inclusive economic development, because Moldova's economic success depends largely on the growth of small and medium-sized enterprises. Difficulties in accessing finance are one of the main obstacles obstructing the growth of SMEs, especially during this difficult time. The EU4Business-EBRD credit line is one of the EU instruments which will contribute to limiting the economic consequences of the Covid-19 outbreak and it includes loans, grants and technical assistance. These additional resources will help the companies from Moldova to increase their competitiveness and to take advantage of the opportunities provided by the Deep and Comprehensive Free Trade Area (DCFTA)."

László Diósi, Chairman of the Executive Committee - CEO, Mobiasbanca-OTP Group commented: "We thank EBRD partners for again trusting Mobiasbanca-OTP Group to offer the €5 million loan to be able to assist local companies during this period. This on-lending is supported by EU grants for clients under DCFTA.  It is timely financial support for our customers; as many companies are now experiencing uncertainty. The available funds will provide a perspective on development plans and confidence in the future."

The EBRD is the leading institutional investor in Moldova. Since the start of its operations in the country, the Bank has invested over €1.3 billion in 134 projects in Moldova's financial, agribusiness, energy, infrastructure and manufacturing sectors.